Please come back on March 27th for the re-opening of our shop!
Crab + Lobster Roll Kit
$110.00
Regular price
Unit price

/

per
Quantity selected exceeds current stock
Description
Makes a total of 4 rolls
About the Taste
Most people have heard of lobster rolls, and some people plan whole vacations around them.  But if you haven't tried a crabmeat roll, you're missing out.  Togue likes to make combo rolls: one side lobster, one side crabmeat.  This kit comes with one half-pound pack (frozen) of Maine lobster meat from Community Shellfish, one half pound pack of fresh Maine crabmeat from Port Clyde Fresh Catch, a package of New England Split top buns (6  per package - you'll have two left over - grab some scallops to make scallop rolls) and one stick of Kate's All natural sea salted butter. 
Why you'll love this
Because it is so easy, and it'll give you a chance to choose your favorite crustacean roll! I'll include roll kit instructions with several ways to prepare.  Personally I like to brown the buns in a medium hot pan (with lots of butter of course), squeeze in a thick ribbon of Hellman's (or other good-quality) mayonnaise, add some shredded lettuce or one nice leaf of lettuce, then stuff plenty of lobster meat to one side and crabmeat on the other.  Sometimes Togue mixes the crabmeat ahead of time with celery salt more mayo or some green onions and drizzles the whole roll with a little sea salt and drizzle with melted butter. 
This kit will make four generous rolls and you'll have two buns and butter left over to do with as you please :).  We recommend you add a pound of scallops as that will get you free shipping and you'll LOVE scallop rolls.
Adding product to your cart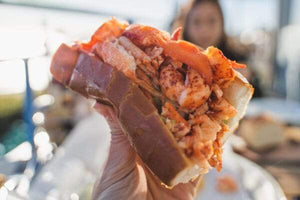 Recommended
You might want to take a closer look.