"When you're biting into warm, succulent, delicious scallops, remember these hard-working men who braved Maine's winter winds and icy waters to bring them to you."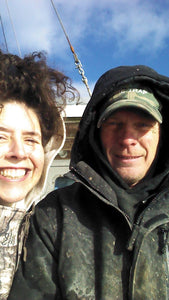 Our Fishermen
As Downeast Dayboat grows, we're constantly adding new fishermen.  Below is a partial list of the fishermen who work with us - these guys have been with us the longest and are what Togue calls our "principal fishermen."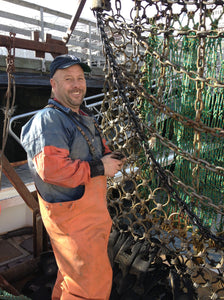 Alex Todd
Alex comes from a long line of Chebeague Island Fishermen. He lives in Freeport Maine with his wife Heidi and his sons Jacob and Joshua but also has a place on Chebeague.   He's the chair of Maine's Scallop Advisory Council and fishes in both the Maine State Fishery and the Northern Gulf of Maine Fishery. When he's not plying Casco Bay or Gulf of Maine waters for scallops, Alex fishes for lobster, shrimp, groundfish and anything else he can find.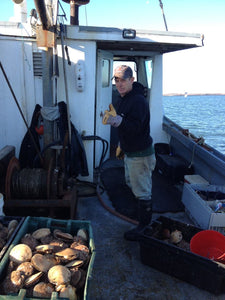 Kristan Porter
Kristan lives in Cutler, Maine with his wife Brenda and his son Brandon. Daughters Whitney and Ashley are out on their own. He fishes for scallops, and mahogany quahogs on the Brandon Jay and for lobster on the Whitney and Ashley. Always trying to enact better management, he is the president of the Maine Lobstermen's Association and the former president of the Maine Fishermen's Forum (Togue is on the board of the Forum, which is the social highlight of her year!)  Kristan has a Federal Northern Gulf of Maine permit, which enables him to fish in the federal waters just off Maine's shores. Regulations allow him to fish these waters year round, but because of the abundance of lobster gear, he can't really do that. But thanks to Kristan and a few other guys, we can extend the Maine scallop season by a couple months, offering NGOM scallops in April and May.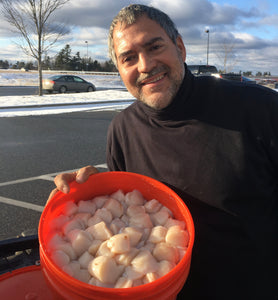 James West
James lives in Sorrento, one of the most beautiful areas of Maine. He fishes primarily around the Schoodic peninsula. His son James Jr. sometimes fishes with him as well. In recent years my customers have sometimes specifically requested his scallops since they're always so well-cut and the Schoodic area (Frenchman's Bay, Skillings River and other areas) produce some phenomenally tasty scallops.