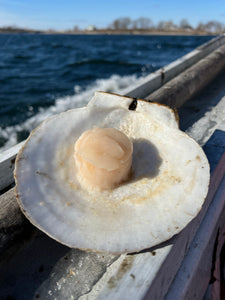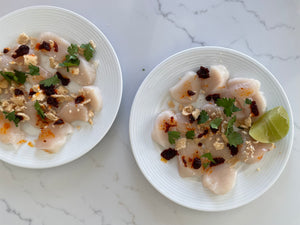 Delicious raw or cooked...
From Maine's icy waters to your door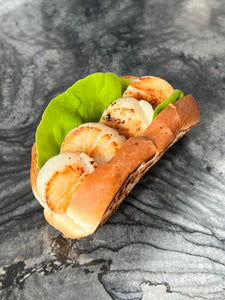 There are 2 kinds of sea scallops - the ones most Americans have tried and these decadent dayboat delights.
What makes them so amazing? Several things, the most important being that our scallops NEVER touch fresh water. Most scallops in this country come from large boats that fish offshore for 6 days (or more!) at a time. Those scallops soak up melt water from the ice they're stored in, adding weight and diluting flavor. Did you know scallops, just like oysters, have different flavors depending on where they grow? Let us introduce you to the many fantastic flavors of Dayboat Scallops. And you're in luck, because this time of year you can purchase Maine Dayboat Scallops, which are the crème de la crème of scallops.
Maine caught, hand packaged and shipped from Portland, Maine
How Does it Work? Place an order.
Place your online order by noon (EST) on Sunday for same-week delivery or choose a future delivery date. We catch your order.
On Sunday nights, we coordinate with fishermen to determine where and when your scallops will be caught.

We ship your order.
Within 24 hours of harvest your scallops are on their way to you. You receive and enjoy!
Unbox your order and enjoy the best scallops you've ever tasted.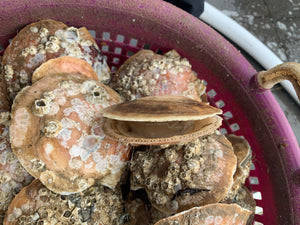 Caught for you.
Our warehouse is the ocean floor.
We don't operate like any other seafood business. We don't have a warehouse full of seafood – our scallops stay on the ocean floor until you order them. We travel the coast to collect scallops on harvest day, package them that night and ship them the next day.

Maine's cold, pure waters produce the very best tasting scallops in the world.  And our process ensures they reach your hands just as delicious as they were when they were pulled from the sea.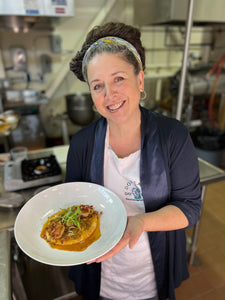 Meet the Owner
Togue Brawn has been elevating the Maine Scallop and Shellfish industries for years. It's in her blood to do so.
Learn more
What People are Saying...
"You've ruined all other scallops for me! I've bought, cooked, and eaten what I thought were the best scallops the ocean had to offer and then I tried yours."

— 

Ron S.
"Truly grateful that you and your fisher people are sharing this wonderful seafood. Friday was my husband's birthday and we had your scallops. Wowza! They are fantastic, as always."

— 

Gayle C.
"Sweet and unbelievable fragrance. I just ran out of my frozen supply from you about 2 weeks ago… and the alternative just sucks… so be prepared for even bigger orders from you each week when the fresh season starts!"

— 

Kelley K.
"Togue, the scallops are so, so amazing!  You are right - the Gouldsboro Bay ones are just out of this world!  Thanks so much!  I will be ordering more."

— 

Linda K